My mom came to visit and seeing as I'm in Gold Country, we must be cowfolks to. We went to dinner with Grandma, then had to run to the grocery store on our way home to pick up some ice cream. A Ross's was right next door, and well, my mom would much rather go to Ross's than some grocery store. So, Mr. D goes with my mom and the 3 younger kids, he needs some new dress shirts and ties anyways. I get this call from Mr. D wanting to know if he should buy "these", "are they a good deal", so I tell him to find mom and see if they match, she's good with color anyways. He finds her while he's still talking to me, "Oh my gawsh", and then all I hear is laughter. There was Grandma with K-Bug trying on red patent leather stalettos wearing these hats! They were just bent over, happy as could be shopping for shoes they had no need for. Grandma decided to leave her hat here for Mermaid, "Just in case she needs it to fit in." (She will be as far away from fitting in in that hat) She never wears THIS much pink, but she decided to pose for a Grandma Courtesy Photo(you know, kind of like a courtesy laugh). So, here she is, my little pink princess ready to hop on a pink my little pony!
Ree(http://thepioneerwomancooks.com/) would be so proud of Mermaid.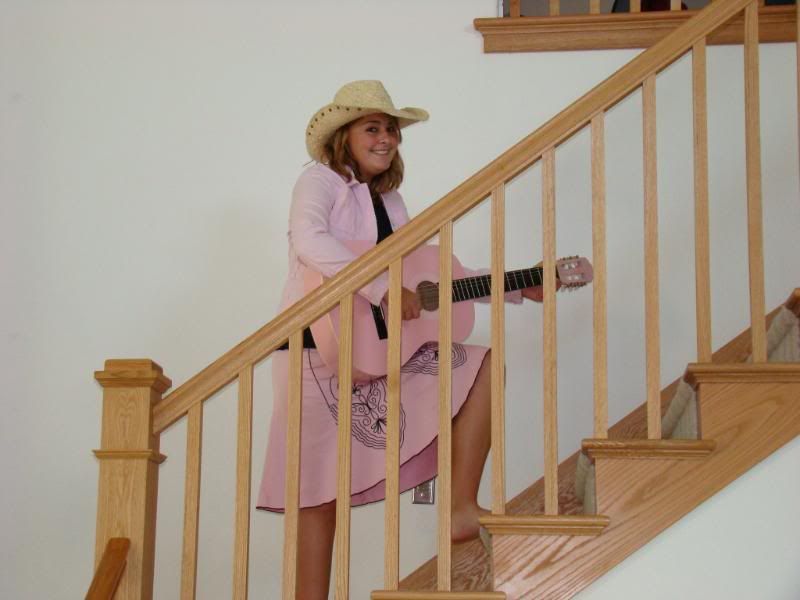 BTW, Mermaid says HI ASHLYNN & BECKY. SHE'S JUST AS CRAZY AND WILD HERE TOO.